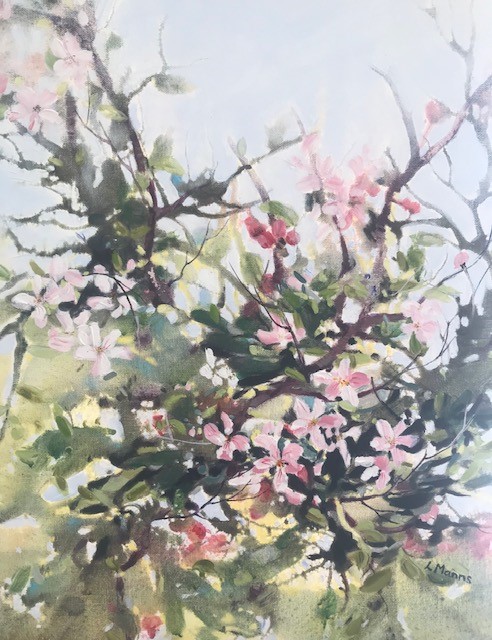 MANNS, Leanne
As a Gold Coast artist, I am blessed to be surrounded by the beauty of nature and inspiration for my artwork is never far. In earlier years raising four sons, creating gardens, dabbling in pottery and designing children's clothing, kept me busy. It is only in the past twelve years that I have been able to take my art more seriously and devote quality time to painting. I have also been involved with the RQAS Art Gallery at Broadbeach for the past six years.
These days, my camera and sketchbook are always with me on long walks and are used to capture those special moments that are later used as a reference.
Over the years my style has changed, however I have always been drawn to the coastal bushland, the inland waterways, the wide beaches and the ever-changing ocean and skies. The coastal bush – my liminal space – contains a myriad of patterns, created from light and shadows. I have always been fascinated by these patterns and this is constant in my work.
My paintings develop as an emotional response to nature. Using the environment as my motivation, I am able to show my love and connection for the landscape – making the ordinary, extraordinary.
I hope that my art is calming to the soul and is a reminder of how precious and fragile our natural world is.
PRIZES
Highly Commended – Landscape
RQAS Broadbeach
Annual Members Awards 2019
2nd Prize – Abstract
RQAS Broadbeach
Annual Members Awards 2018

2nd Prize – Still Life
RQAS Broadbeach
Annual Members Awards 2017

1st Prize Oil/Acrylic
Gold Coast Show Art Exhibition 2017
1st Prize Landscape
1st Prize Still Life
RQAS Broadbeach
Annual Members Awards 2016

1st Prize – Still Life
Darcy Doyle Art Award 2015
1st Prize Landscape
1st Prize Still Life
RQAS Broadbeach
Annual Members Awards 2015
1st Prize Landscape
RQAS Broadbeach
Annual Members Awards 2014