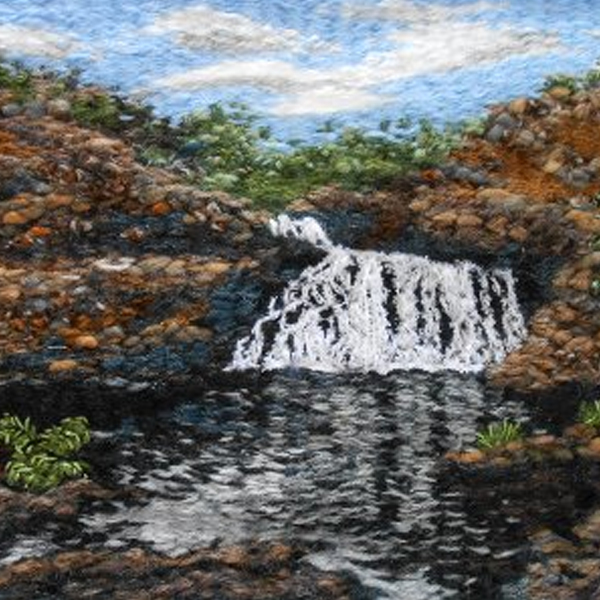 McFARLANE, Deb
Deb McFarlane – Fine Art & Textile Artist
ARTIST STATEMENT
Deb is an Interior Designer and Window Dresser who has a passion for creating pictures from yarns & fibres. The base of her art form is best described as freeform tapestry weaving. Then layers are added on top to create detail and dimension.
Deb has been a textile artist for over 30 years and from the beginning she realized that fibre art could encompass both her painting skills and her love of textile mediums. She is intrigued how different yarns can enhance the surface qualities. (eg wool, silk, mohair, cotton etc) and visually enhance the third dimension through the use of textures.
Blending and interlacing yarns embodies a spiritual essence in each piece. Many of which tell a different story of a different place and time in her life. 90% of her subject matter is seascapes or water scenes and she feels she will never tire of reproducing nature's beauty.
This style of art is a very slow process and each large picture takes more than 2 months to complete, doing a 25+ hour week, and requires more than 50 different mediums in each piece. She uses both new and recycled materials and as many natural products as possible.
Her artwork is professionally framed under non-reflective glass to protect the fibres from insects & dust and also gives a more polished presentation.
Deb had her first solo exhibition at the Northern Rivers Community Gallery in March '12. She has won several awards for her art, including a highly commended at the Bellingen Art Prize. She currently exhibits in various galleries, restaurants, and cafes in the region.
Deb can be contacted by email:
debsweavings@gmail.com or
debandrowan@hotmail.com