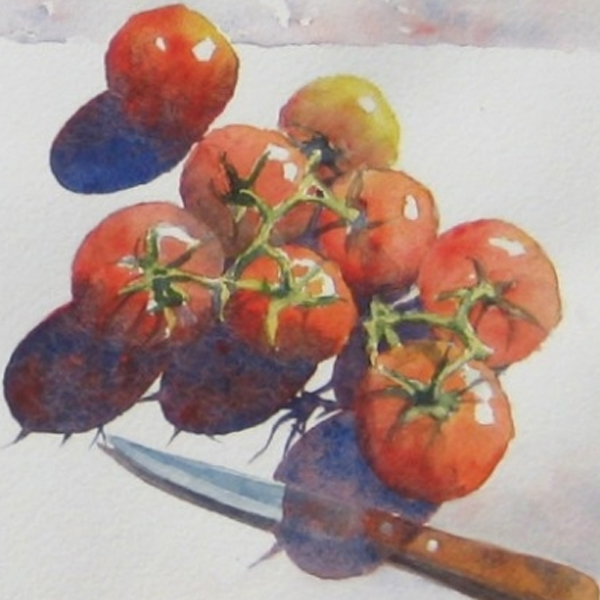 SHIMA, Atsuko
ATSUKO has always enjoyed artistic environment and creative activities.  As a child, she used to stop outside an art supply shop and enjoyed watching their colourful displays of pastels, paints and colour pencils & papers which made her happy.
Atsuko took up painting classes in 2000 with her favourite media, watercolour, which creates unexpected beauty in colours and textures.  She believes that she is very lucky meeting her first watercolour teacher, Debi Riley, and many other painting friends who she can share skills, knowledge and artistic views.
Atsuko enjoys painting any subjects which inspire her ambition, particularly in the categories of portraits/people and still life.  She usually paints from photos looking for interesting light & dark contrasts and shadow shapes.  She aims to translate her feelings onto paper and would like viewers to feel the same.
Atsuko also enters local competitions, such as Gold Coast Show, RQAS Big Art Awards, The d'Arcy Doyle Art Awards and Border Art.  In order to further develop her technique, skills and creativity from wide angles, Atsuko participates in some workshops, including the recent ones conducted by world renowned watercolourists, Charles Reid, Robert Wade, Robert Lovett and Tony Smibert.
While in Sydney, Atsuko was a member of the North Shore Art Society where she had opportunities to exhibit her artworks for the first time.  She is currently a member of Royal Queensland Art Society, Gold Coast, and actively exhibits at the Society's gallery, as well as taking part in its volunteer work on a regular basis.  Atsuko has also been looking after a local annual art event, The d'Arcy Doyle Art Awards, as an Event Administrator since its 2010 event.
Prizes Awarded:
Oct'12     – The Best Work in the Theme at RQAS Monthly Exhibition (watercolour)
Sept'11    – 1st Prize at Gold Coast Show (watercolour)
Jun'11     – Special Award at Sunshine Coast Unsung Heroes Portrait Prize 2011 (watercolour)
Jun'11     – 2nd Prize at RQAS Big Art Awards (watercolour)
Oct'10     – Highly Commended in the Theme at RQAS Monthly Exhibition (watercolour)
Aug'10    – 2nd Prize at Gold Coast Show (watercolour)
Jun'10     – 1st Prize at RQAS Big Art Awards (watercolour)
Aug'08    – 3rd Prize at Gold Coast Show (watercolour)
Aug'08    – Highly Commended at Pacific Fair 30 Icon Competition (watercolour)
Jul'08     – The Best Work in the Theme at RQAS Monthly Exhibition (watercolour)
Sept'06   – Highly Commended at Gold Coast Show (watercolour)
Apr'06    – 3rd Prize at RQAS Members Only Competition (watercolour)
Dec'05    – Highly Commended at The d'Arcy Doyle Art Awards 2005 (still life-watercolour)
Jul'05     – 3rd Prize at Mudgeeraba Show (watercolour)
              – 1st Prize at Mudgeeraba Show (pencil drawing)
Sept'04   – 1st Prize at Gold Coast Show (watercolour)
Jul'04     – 2nd Prize at Mudgeeraba Show (watercolour)
Group Exhibitions:
Jun'13     – Allied Artist Expo @ GCCC Robina Community Gallery
Nov'12     – "Little Gem" Art Exhibition in Watercolour @ Robina Community Gallery
Jan'12     – PO11B (Power of 11 Brushes) @ @ GCCC Robina Community Gallery
Mar'11     – PO7B (Power of 7 Brushes) @ GCCC Robina Community Gallery
June'10   – "Fine Art Friends" @ GCCC Robina Community Gallery